Matches must not only be effective but easy to use. Our new matching grid was designed with ease of use in mind.
Every day, traders from across the globe rely on Theorem to reconcile their trade data. Most traders do not have enough time to spend on everything that occurs post-trade so we here at Theorem purposely designed our matching and workflow solution to be logical and solution-oriented. We take great care in ensuring the tools and dashboards making up our client's experience, including the Matching Grid, are clean and easy to understand. And it's flexible too – the frequency at which trades are matched depends on the client (intraday, T=0, T=1) but is customizable to eliminate noise and provide you complete control over your data.
As you can see in the video below of our Matching Grid, through a grouping of switches and filters, you can toggle between a variety of data sets on the Grid including matched and unmatched, account number, product name, price, etc. The Matching Grid is proof that the data that comes from matching trades can be very impactful but only if delivered in a way that allows the user to react to it effectively and decisively.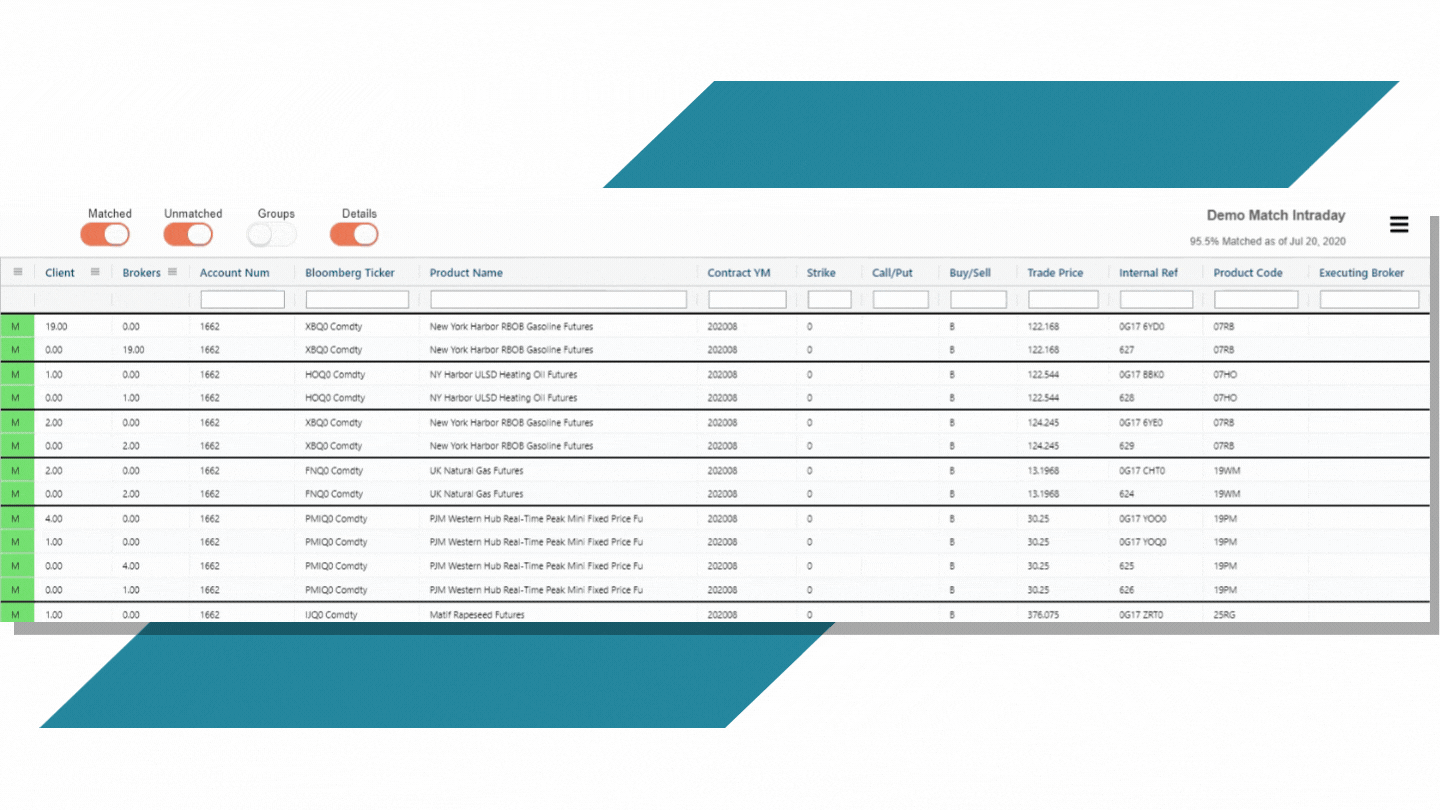 Designed to be flexible, our matching grid allows you to export the trade matches to a .csv file with one click of a button.
For those clients who are not looking to spend time on our platform, we provide an option to consume and analyze the data, however works best for you.
Combined with our powerful match analytics and data mappings, our new Grid features let you work with match results based on what you prefer and how your workflow operates. Here at Theorem, we genuinely believe that trade match data must not only be effective and accurate but easy to digest and be actionable as well. If interested in learning more about Matching Grid and Theorem's workflow solution, please reach out to schedule a demo with us.
Schedule some time with us to discuss this insight further or learn about the ways in which Theorem can help elevate your post-trade processes.
Like what you read? Provide us your email and we'll send you the latest insights, videos, and e-books built by us and thoughtfully-designed to help you focus on your core business, straight to your inbox.